Hereby the link to the Press Folder:
The Dinner Sculpture No.1 is the latest artwork of Dutch Artist Jasper Udink ten Cate. An artwork connected with the Future Food Quest and Future Food City (FFC) project. A continuous project that celebrates, investigates and researches the possibilities of food futurism.
This sculpture is about creating an interactive and engaging sensorial dinner that connects with a possible food future. A story about a future system that could solve the challenges we have in our current food supply chain. Directly from the sustainably cultivated plantations in Mato Grosso, Brazil, teak wood partner Soroteca supplied him the sustainable wood from which he handcrafted this unique – and one of a kind – Dinner Sculpture.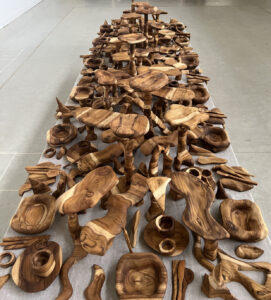 My latest project. I designed special ceramic objects based on the story of beans. These handpainted and unique objects where produced with the help of studioZAND and are numbered and come with a special certificate including real beans to plant in your garden. The design is based on the uniqueness of mother nature, the stories surrounding beans and the power of biodiversity. The colours are based on actual colors which can be found on beans. These artworks can be used at the table, as decoration, as present or as artworks at your home. There are twelve made in the Zero edition, I will make 50 new ones, each signed and unique when there is enough interest.